Meetings are usually held on the
third

Monday

of the month (with the odd exception)
Lambeth United Church
http://www.lambethunitedchurch.ca
4268 Colonel Talbot Rd. London, ON
but due to the Covid 19 pandemic,
meetings

will be held via zoom


All members will receive an invitation via email.

Next Zoom Meeting: MONDAY JANUARY 17 at 7:30 pm
Speaker:  Ben Porchuk   Topic: Bringing Forests Home
If you recognize Ben's name, you have a great memory! He spoke to us May 2012.  Ben is a modern example of how one can take the simple step of bringing nature back to our yards, while turning the tables on climate change and the continued loss of plant and animal species.  This talk will be sure to help you "Bring the Froest to Your Home."

Zoom Meeting: MONDAY FEBRUARY 21 AT 7:30 pm

Speaker: Anna Leggatt   Topic: Around the World in 40 plants. 


Anna is a Toronto Master Gardener, past chair of the Ontario Rock Garden Society, Past Dir. of the N.A. Rock Garden Society and a nenber of the East York Garden Club.  She is basically a mad gardener, gardening in a large shade garden in Toronto with visiting mink, deer, rabbits, and groundhogs.  She loves rock gardens, wildflowers, working with stone.  She wants to grow vegetables.  However, the dder and groundhog would like them as well.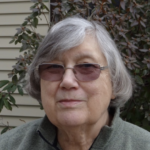 Zoom Meeting: MONDAY MARCH 21 at 7:30 pm

Speaker: Jocelyn Molyneux   Topic: Soil Booster Worm Manure


Jocelyn, founder of Wastenot Farms Inc., developed Jocelyn's Soil Booster Worm Manure as a healthy alternative to chemical fertilizer.  She holds a master's degree in applied environmental science and management.  It's all about the microbes!  Learn why Jocelyn's Soil booster Worm Manure is a healthy alternative to chemical fertilizers and how regenerative growing with microbe-rich worm castings feeds your sooil, so you can fuel your family – and help fight climate change.