The Lambeth Horticultural Society have their
Garden Tour every other year.
This year will be our 16th tour!

SUNDAY JULY 8, 2018, 1-5 pm


Join us for a relaxing afternoon
visiting the lovely gardens.
You will also have the opportunity to
exchange tips and ideas.
Look for the OPEN GARDEN sign
in the front yard on the day of the tour.
Flyers will be available at the
Lambeth Public Library,
7112 Beattie St. July 3rd to 7th
The Tour is

F R E E!

of charge and
held Rain or Shine
172 Bexhill Close, London, ON
This garden was beautifully designed and is well groomed. You will see a good variety of plants and flowers tucked into many nooks and crannies.  A stunning magnolia tree stands proudly in front of the house.
Always a big hit at many of our garden tours, this garden begins with a front yard packed with beautiful lilies,
and a visit to the backyard will take you to an oasis filled with many varieties of hosta. Enjoy a stroll to a sitting area nestled in the shade.
3505 Loyalist Crt.
Neat as a pin will first come to mind when visiting this garden.
A large variety of perennials, vegetables, annuals with tropical and oriental accents.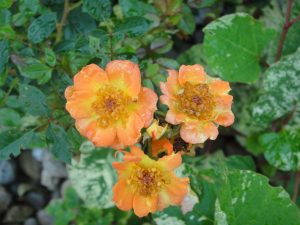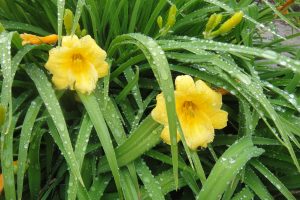 3559 Loyalist Court, London
A floral extravaganza. You will find lots of hand crafted bird houses and other whimsical garden ornaments that
lend a country feeling to this extensive garden.

9 Victoria St. Delaware
This home has a lovely pond surrounded by perennials and trees.  A very relaxing place to sit.
Note the combination of perennials in the pots on the patio.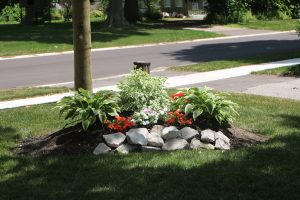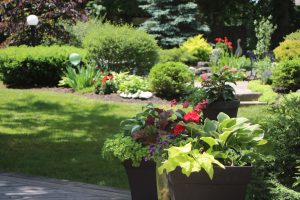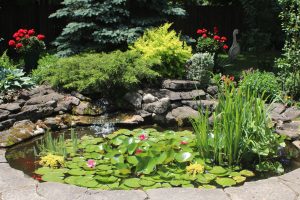 16 Victoria St. Delaware
This home has some amazing huge trees You can't help but admire these old beauties for their stature.
After weeding in the vegetable garden, one can relax on the swing and watch the koi in the pond.